A homeowner must find a local propane company. You get an idea of ​​what they do first: they do a Google search for "propane companies near me". When Google search results load, does your business appear in the top three search results? Consider these statistics:
Google's first page captures 71% of search traffic clicks
Top five search results receive 67.6% of clicks
The bottom line is that if you're not appearing in the top five of local search results, your competitors are getting the business.
Pushing your site to the top takes work
A lot goes into boosting your small business's search presence — too much to really fit into one article. That's why this article is a two-part series on how to push your website to the top of search results.
In the first part, we will see how Google My Business (Google's tool for managing your business profile on their site) can improve your search rankings. In the second part in March 2022, we will talk about content strategy to improve search engine optimization (SEO). But before we get into the strategy, let's explore the basics.
Understand the basic anatomy of a search page
There are three components that dominate the top section of search results: paid search ads, local three-pack, and organic search results.
Paid Search Ads
Paid search ads are an effective way for local businesses to quickly increase traffic because you pay for it. Organic traffic growth takes time. Paid ads are a way to "skip the line" and plant your propane business at the top of search results as soon as possible with an investment of $1,500 or more per month in ad spend.
Pack of three rooms
The "local three-pack" refers to the first three search results that display in a small, tidy box — often with a map — near the top of the page. For a local service business, this is the key area you want to dominate.
Appearing in the local three-pack is most effective for businesses with good ratings and reviews, which will appear alongside your business information. A study found that 56% of consumers choose a local three-pack business if they have positive reviews and ratings.
Organic Research
Organic search results are based on how relevant Google deems the page to the prospect's search query. To appear at the top of organic listings, you need to have relevant, high-quality content that your prospects and Google value. Growing organic rankings can take time, but it's a worthwhile effort.
How "Google My Business" Can Improve Your Business' Local Search Presence
Forty-six percent of internet users search for local results. To give people what they want, Google has focused on improving local (or "near me") searches. This helps local service providers like you appear higher in searches, if they are optimized for location-based searches.
To make a great first impression with Google My Business, think of your listing as your Google homepage. Your listing appears in the sidebar when someone searches for your business and displays the name, number, website, and address. Many local businesses have one of these lists, but not enough of them use it to their advantage.
How to optimize your Google listing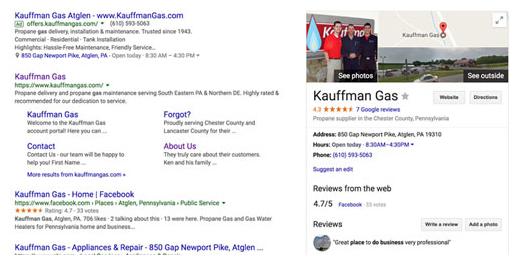 1. Claim your Google My Business listing
Eighty percent of users rely on search engines to find local information. But, according to a recent study, over 56% of local businesses have not claimed their Google My Business listing. That means the remaining 44% of local businesses are picking up all leads online. Taking ownership of your Google My Business listing can single-handedly improve the local SEO rankings of your propane business. Claiming your Google My Business listing is a simple process that should take less than 15 minutes. Here's what you need to do:
Google your business and click "Owner of this business link" on the business profile card
Enter business details including name, address and phone number
Be sure to correct or remove duplicate accounts, so as not to confuse researchers
2. Add a Polish professional to your profile
To get this professional polish, set the bases first. At a minimum, you should add your hours, services, and a brief description of your business.
Next, add solid information to your Google profile that will set you apart. Make a great first experience for your potential customers by creating a complete profile that answers as many questions as possible:
Types of payments accepted (proving it's easy to do business with you)
Service area (confirm you are close to your prospect's area)
Answer frequently asked questions or FAQs (from propane tank sizes to delivery times, answer top questions your service reps receive in the FAQ section)
The next step is to add professional photos of your team and office. Don't underestimate the value of a personal touch. Photos help you show your presence and can make clients more confident in your professionalism.
Photos of the exterior and interior of the office can be useful if customers visit your office to pick up tanks or pay bills. Photos in the field show your team delivering propane, installing tanks, or providing excellent service, creating a great impression on potential customers.
Finally, create Google posts promoting offers on your profile. These can serve as lead generators directly from Google. Promote your latest tank installation offer; new customer offers; or heating, ventilation, and air conditioning coupons right in your Google Listing.
3. Earn and Engage with Google Reviews
Eighty-four percent of users trust online reviews as much as a personal recommendation from a friend. Help make the decision easy by winning more reviews than your propane competitors.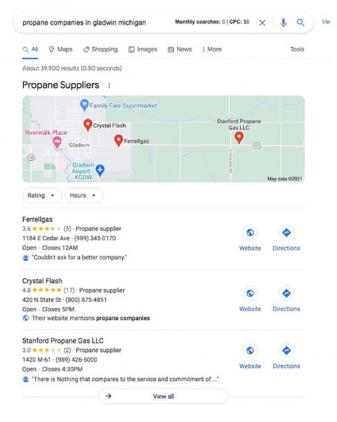 A significant number of Google reviews also help propel your business higher in search results. The trick to getting Google reviews is simple: just ask.
Once you receive Google reviews, respond. Not only does this help show you're grateful and committed, but it will also help manage your reputation after the inevitable bad review.
Improve local SEO and increase sales
Your schedule is busy, especially in this busy season. But it only takes an afternoon to set up and optimize your Google My Business account. After that, you only need about an hour a month to maintain it. For such a small commitment of time, nothing will do more for your business sales than optimizing your Google My Business account.
We'll be back next month with part two of this series, where we'll dive into the content you need on your site to help potential customers find you on search engines.